Individually watermarking hundreds of photos is very time consuming. Wouldn't it be great if you could watermark all of your photos at once? Watermark.ws makes batch watermarking your photos incredibly easy.
If you are unfamiliar with this application, take a look at our getting started with watermarking tutorial before continuing on.
Step 1: Selecting Photos to Watermark
Once you're logged in to Watermark.ws, select one of your folders that contain some photos, or create a new folder and import the photos you want to batch watermark. There are several ways to select the photos that you'd like to start watermarking.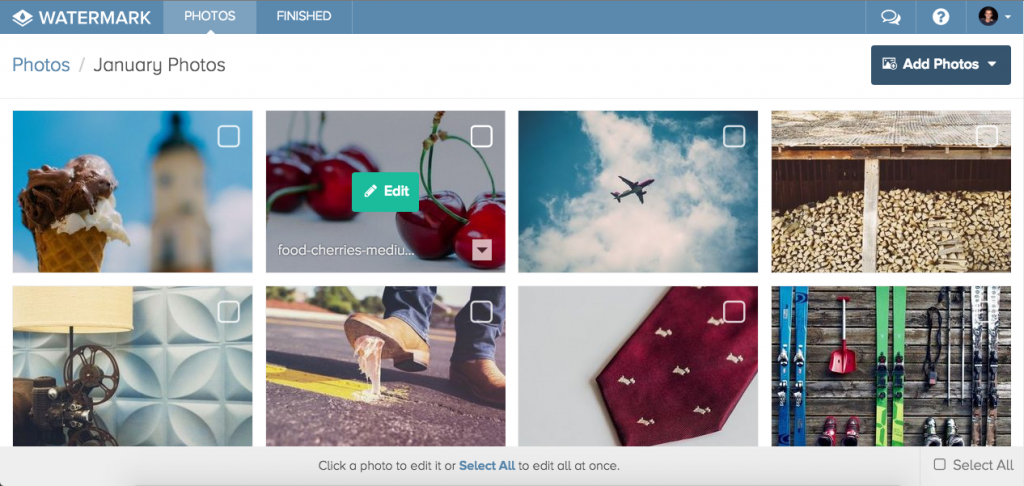 To individually select a photo, click on the checkbox located in the top right corner of each photo. If you want to select everything inside your folder, use the Select All button found on the bottom bar.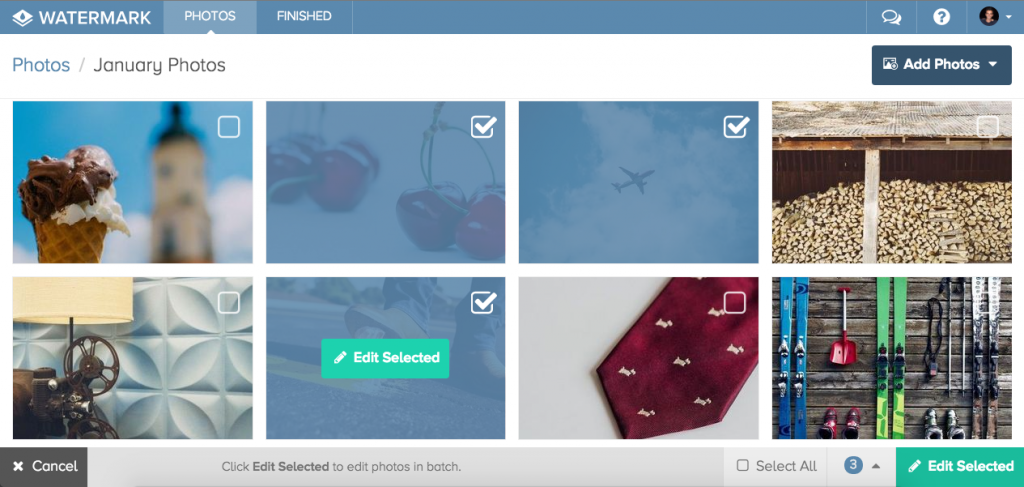 Once you have selected the photos you want to edit, click the Edit Selected button to enter the editor and begin the process of watermarking the photos you've selected.
Step 2: Placing Your Watermark
Editing photos in batch works similarly as editing an individual photo. In this scenario, I've used the Logo tool to upload my logo to be used as a watermark. Use the set of tools at the bottom to style your watermark.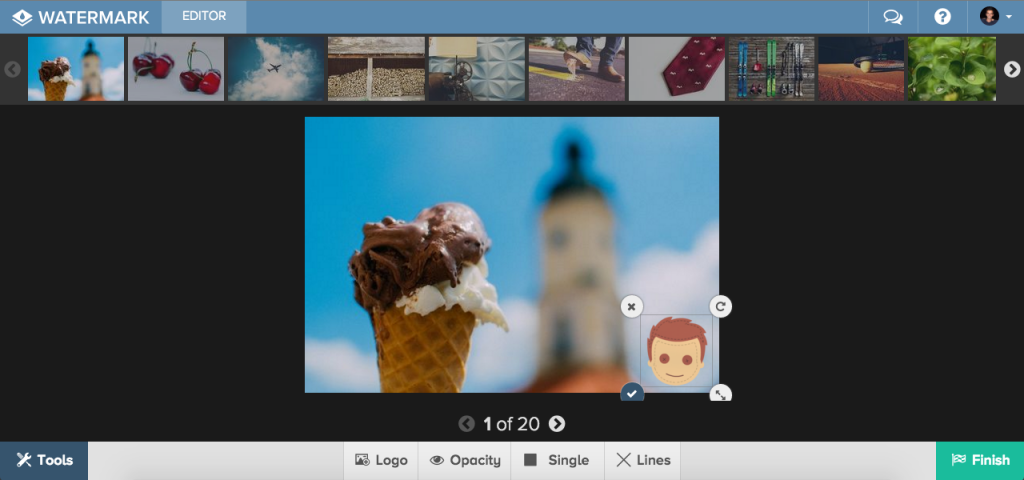 When editing photos in batch, the default selected photo you are viewing is the first photo of the batch. To preview how the watermark looks on other photos of your batch, click on a thumbnail at the top. By default, our application will show you as many photos as it can fit on the screen. Use the arrows to the left and right of the thumbnails at the top to see all more photos of your batch.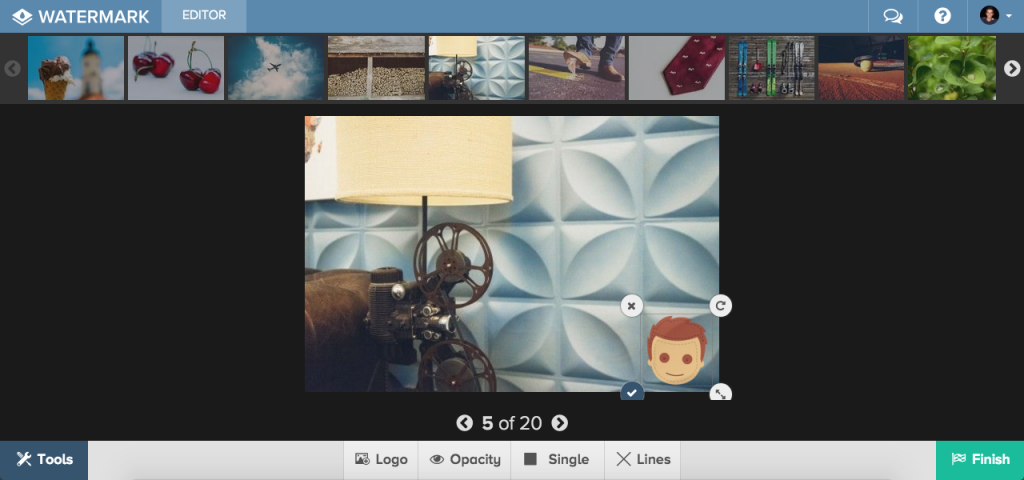 Once you're satisfied with how your watermark appears across all your photos, click the Finish button to start processing your photos.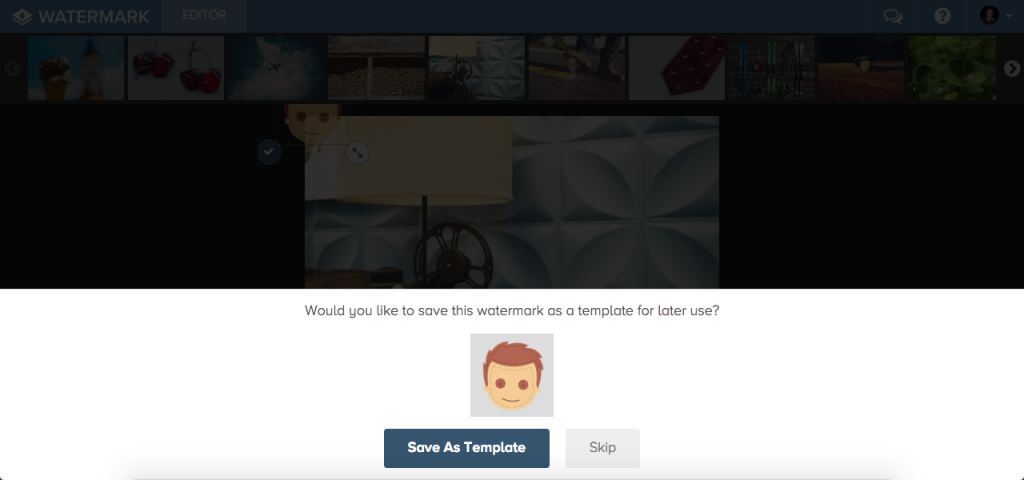 If you used a new watermark, you will be prompted to save your watermark as a template. Saving your watermark as a template is a great way to speed up your watermarking process. All of your settings will be saved, including the rotation, size and position of your watermark.
Step 3: Exporting Your Watermarked Photos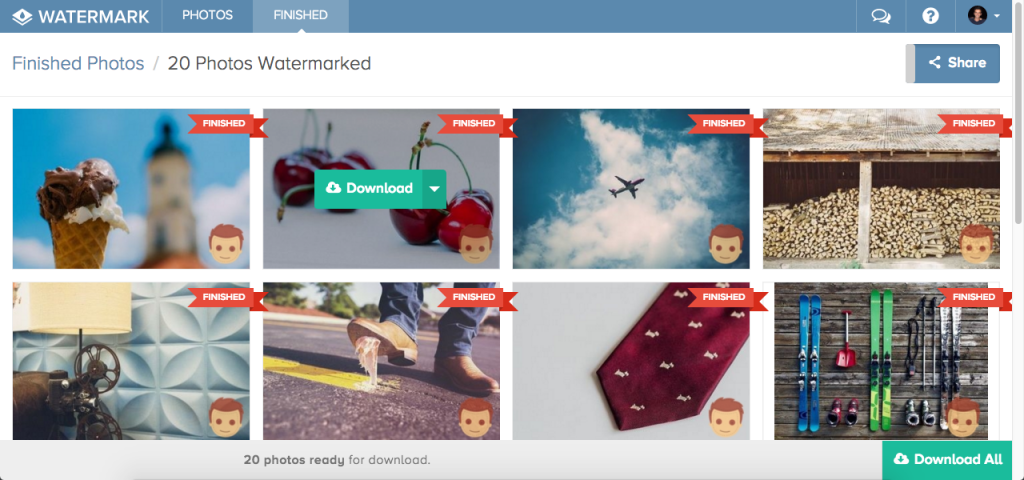 Congrats! Your watermarked photos are now ready to be downloaded and shared. Each photo can be individually downloaded, or you can use the Download All button in the bottom right corner to download all the photos as a zip file.