Looking to apply an Instagram filter on your photo online? Choose from a set of 18 Instagram filters like Apollo, Toaster, Sierra and many more.
1. Visit Watermark.ws
Start by visiting Watermark.ws and logging into (or creating) your account. Import your set of photos, and begin editing them.
2. Applying the Filter
Once inside the editor, click on 'Filter', available on the bottom toolbar.

You'll instantly get a list of Instagram filters to choose from, and you'll be able to preview what the filter looks like on your photo.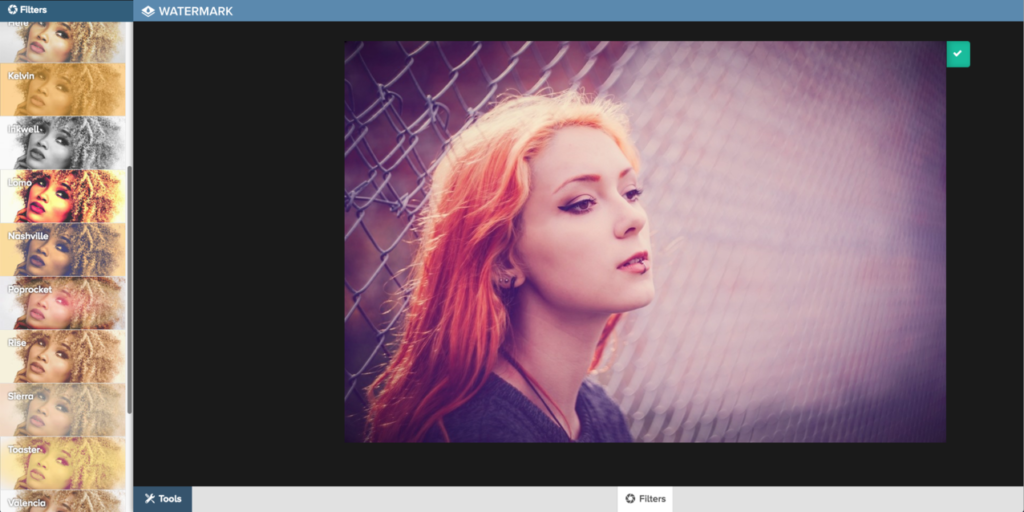 Choose from 18 Instagram filters
The list of filters to choose from includes a few of everyone's favorites, including Sierra, Valencia and Walden. Here's the comprehensive list of Instagram filters that are currently supported:
Amaro
Apollo
Brannan
Earlybird
Gotham
Hefe
Kelvin
Inkwell
Lomo
Nashville
Poprocket
Rise
Sierra
Toaster
Valencia
Walden
Willow
Xpro2
4. Finish & Download
Once you've applied the filter, finish editing and download the processed photo. Here's our original photo with Nashville filter applied.