This is a comprehensive tutorial on how to create a watermark using the online watermarking site Watermark.ws.
If you're unfamiliar with this site, head over to Watermark.ws or take a peak at our guide to getting started with watermarking.
How to Begin
Login to Watermark.ws
Begin editing one or more of your photos
Choose the Text tool to start creating your watermark
Customize Text, Position, Rotation and Size of your Watermark
Begin typing at any point to input your text. Drag the watermark around using your cursor and release to place it into position. Use the tools on the watermark itself to shrink, enlarge or rotate it.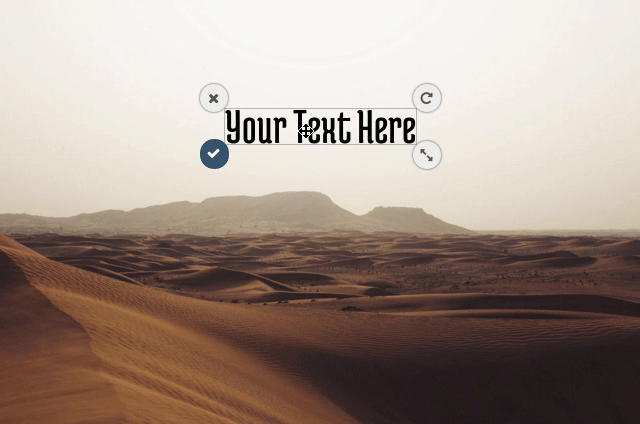 Pro tip: Drag your watermark near the center of the photo to snap it perfectly on center.
Choose a Font
Click the Font option to open the list of available fonts. There are over 250 fonts to choose from, including serif, sans-serif and handwriting fonts which also support a variety of scripts: cyrillic, arabic and others.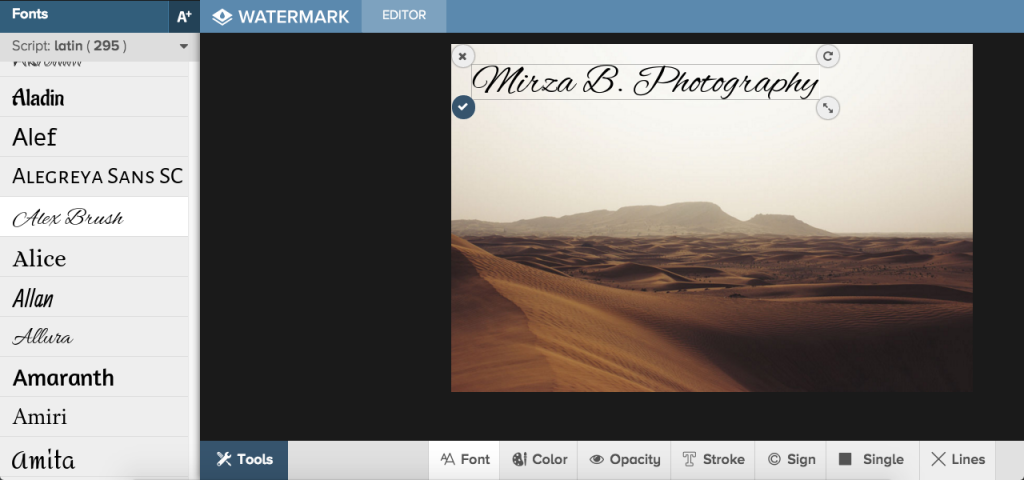 Pro tip: Use the up/down arrow keys on your keyboard to quickly flip through the fonts.
Pro-tip: Import your own font using the button near the top of the list of fonts.
Color your Watermark
Use the Color tool to choose the color of your text and optionally set a background color.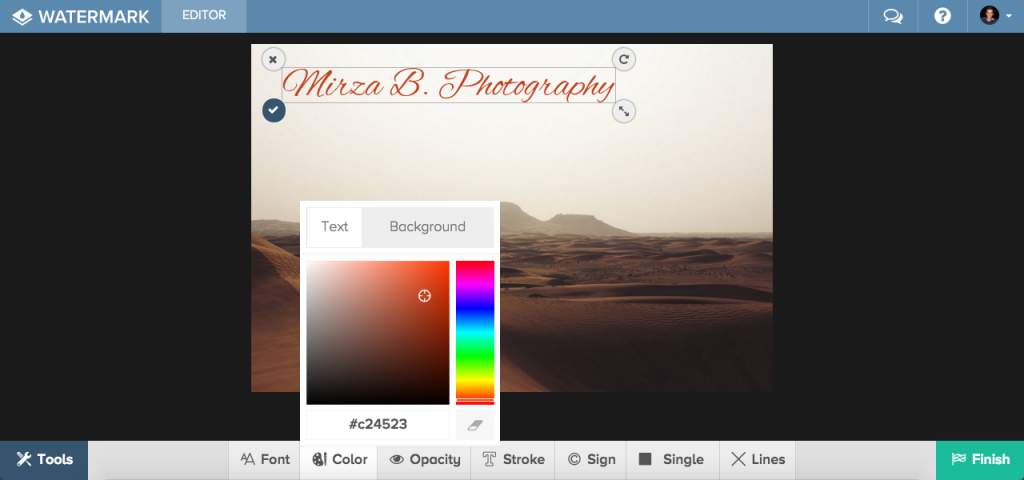 Pro tip: You can manually specify a hex code by inputting it into the hex code input field.
Add a Stroke
Use the Stroke option to place a different colored outline around your text. This can give your watermark a slight 3D effect and is useful for keeping your watermark text legible across your photos.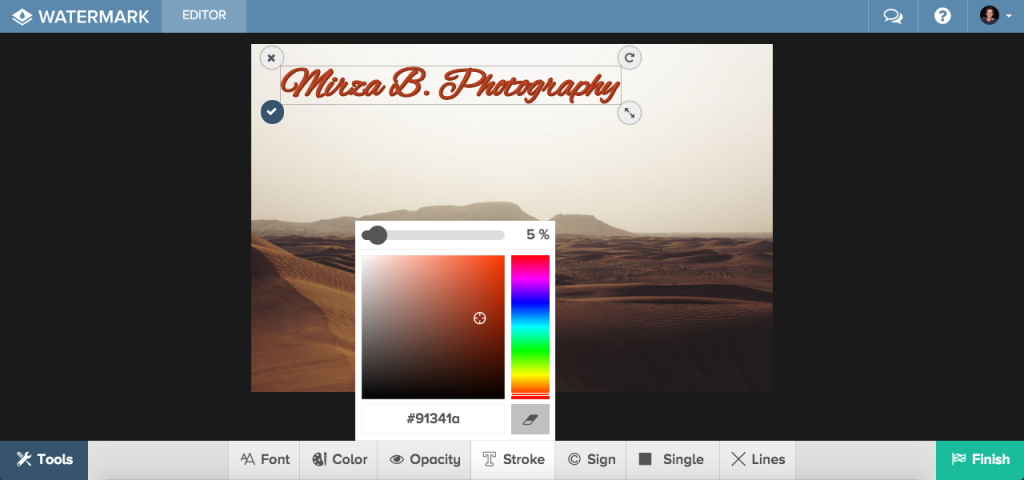 Pro tip: Use a slightly darker color than your text color to give your watermark a 3D effect.
Adjust Opacity (Transparency)
The key to creating a subtle watermark lies in the fine-tuning opacity. An opacity of 20% means that your watermark will be 80% transparent.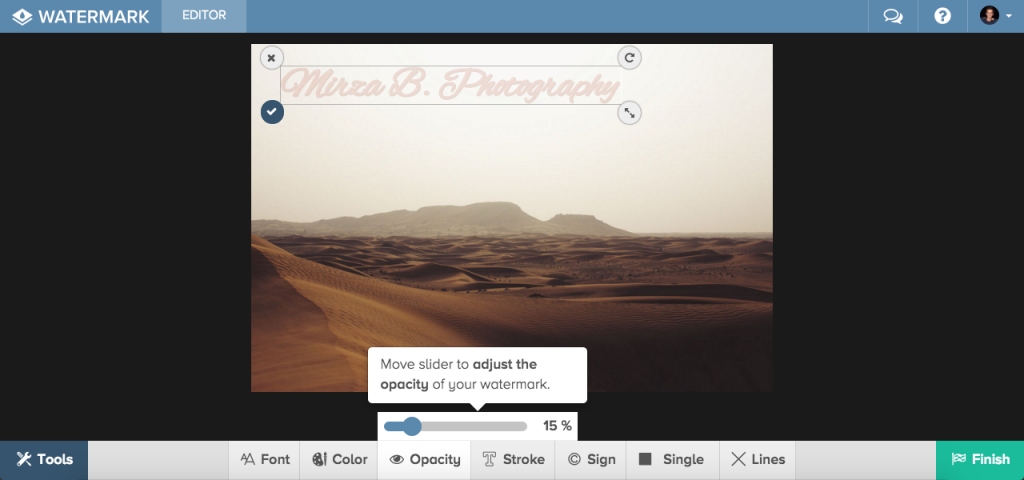 Pro tip: Use low opacity so your watermark isn't too distracting, but will still serve its purpose.
Append a Copyright Symbol
Apply the finishing touches to your watermark by adding a copyright, registered or trademark symbol to your watermark.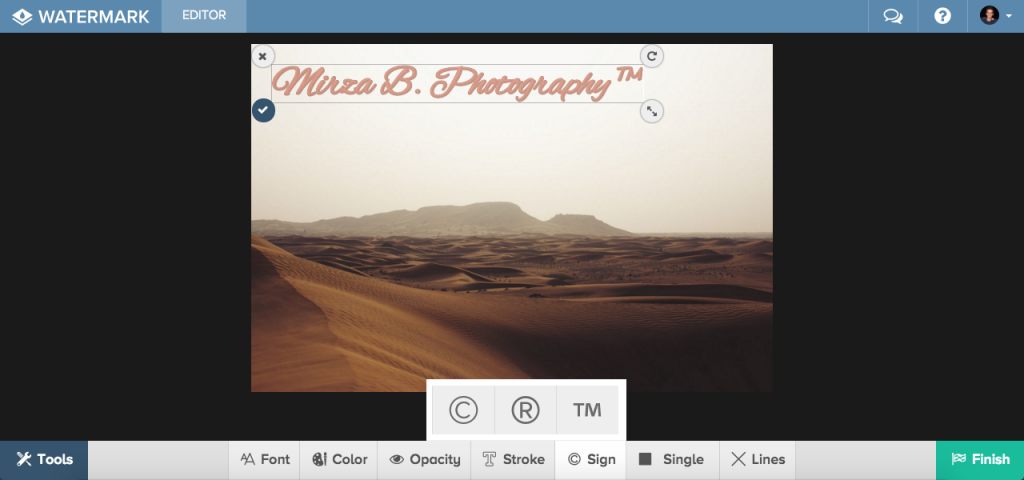 Tile your Watermark
Repeating your watermark across your photo takes one click. You can even customize the spacing between your tiled watermarks, or rotate your watermark so your tiles appear diagonally.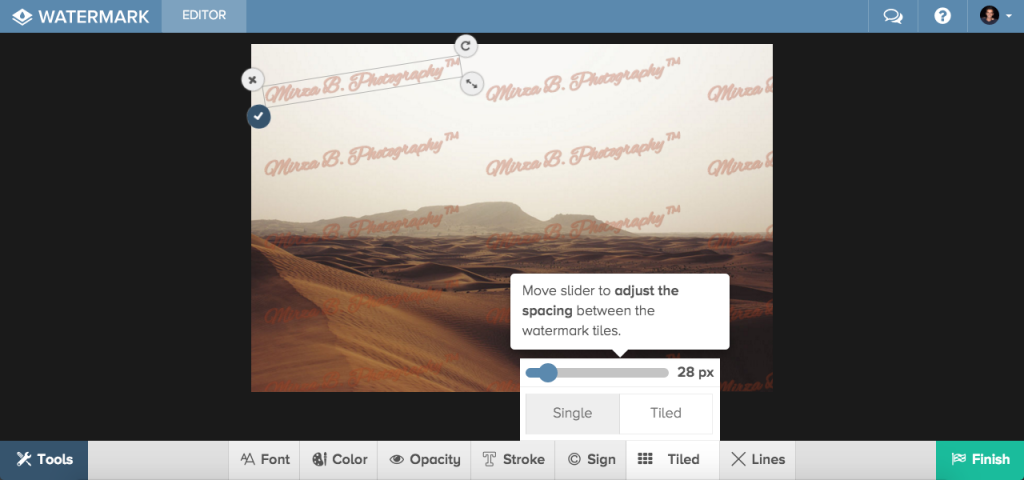 Saving your Watermark
Once you're satisfied with the watermark you created, click the blue button with the checkmark to apply it onto your photo. You will be prompted to save your watermark as a template so you can re-use it in the future without having to create it all over again.
Congrats! You've created your own watermark which you can now use to watermark your photos. Good luck!